Organ of Elbphilharmonie in Hamburg
An organ to "get your hands on"
The organ of Elbphilharmonie blends perfectly into the spectacular architecture of the great concert hall. It symbolizes the entitlement of Elbphilharmonie, one of the best concert halls in the world, fulfilling the notion, "house for all"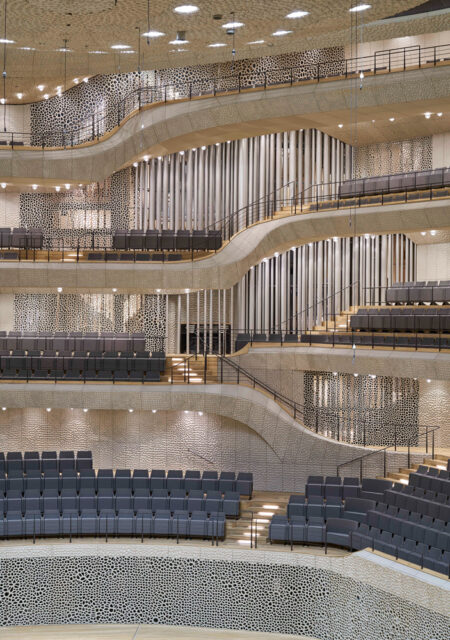 With this very special organ built by the Workshop of Johannes Klais from Bonn, which succeeded throughout four generations, the organ city of Hamburg now possesses even the youngest instrument of this genre.
This four-manual instrument with its 69 stops and 4,765 pipes encompasses an enormous range of tone and dynamic, especially in the field of 19th, 20th and 21st Century music.
The specialties of this instrument include the wind control for individual manuals (partial) and stops, in which the wind can be regulated from a standard pressure down to 0 mm WS (water column), as well as the echo organ, positioned in the reflector over the stage. There are 4 stops to this and can be freely connected to each manual of the organ. Furthermore the organists are able to perform the organ either from a console attached to the instrument, or from a distant electronically controlled console, even on the stage. The Latvian organ virtuoso Iveta Apkalna is the titular organist of this Klais organ in Elbphilharmonie.
The instrument is not located high up and away from the audience, but is elegantly integrated into the architecture of the great hall. A total of four public rows are situated directly in front of the 15 x 15 meter big and 25 ton heavy instrument, which extends throughout the entire west side of the hall. The façade of the organ is built by the largest metal pipes, coated with a protective layer to defend itself from the fingerprints. Therefore even touching and feeling it or "getting your hands on" is explicitly allowed!
The Klais organ in the Elbphilharmonie was designed by Manfred Schwartz and is a gift from a founder Peter Möhrle.